Pop the Bubble: witten connect ist ein Seminar an der Universität Witten/Herdecke, das Kim von Signal of Youth in Zusammenarbeit mit Chantal von Code+Design, dem Wittenlab & sieben:viertel und dem Projekt Digitallotsen der AWO anbietet. Man merkt schon: viele unterschiedliche Menschen aus Witten kommen hier zusammen.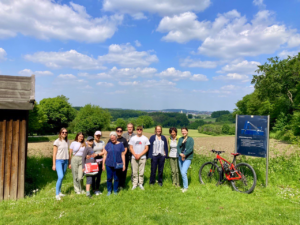 An zwei Wochenenden treffen wir uns – Studierende, Renter*innen, Jugendliche, Sozial-arbeiter*innen, Kinder – und denken gemeinsam darüber nach, was für uns eine Begegnung ausmacht. Wie fühlen wir uns sicher und gut, wenn wir uns begegnen? Wie begegnen wir uns im digitalen Raum vor allem auch seit die Pandemie dies vermehrt erzwingt?
Das erste Treffen hat bereits stattgefunden und es kamen viele verschiedene Perspektiven zusammen. Wir haben über unsere eigenen Erfahrungen ausgetauscht, aber auch Paper vorgestellt, die Begegnungen wissenschaftlich betrachten – die Verbindung war hierbei gar nicht so schwer und oftmals fanden sich Aspekte und Themen wieder.
Im Anschluss an einen sonnenden Austausch haben wir gemeinsam eine Rätseltour im Muttental gemacht, die wir erfolgreich abschließen konnten!
Es war eine spannende Erfahrung und wir freuen uns schon auf die nächste Begegnung am 01. & 02. Juli. Das Seminar ist für alle Wittener*innen offen.
mehr Infos erhaltet ihr hier.
Folgende Termine:
Freitag, 01.07.2022 (14:00-17:00 Uhr)
Samstag, 02.07.2022 (10:00-17:00 Uhr)