Passend zum Jubiläum der TalentMetropole Ruhr wurde am Donnerstag, den 9. November 2023 zum zehnten Mal der TalentAward Ruhr im thyssenkrupp-Quartier in Essen verliehen. Dieser Award, der jährlich verliehen wird, zeichnet diejenigen aus, die sich für Bildung und Nachwuchsförderung engagieren und "Kinder und Jugendliche auf ihrem individuellen Bildungsweg begleiten, ihre Stärken fördern und Bildungsaufstiege ermöglichen". Insgesamt erhielten fünf Preisträgerinnen, die besondere Talente und Bildungsaufsteiger*innen förderten, den TalentAward 2023.
Darunter auch Signal of Youth und dem Ukraine-Projekt, das vor allem durch Kristina begleitet wird.
Talentaward für Signal of Youth
Soyou wurde dieses Jahr für ihr besonderes Engagement in Sachen Bildungsgerechtigkeit und individueller Talent-förderung im Rahmen des Planer-Projektes ausgezeichnet. Soyou und insbesondere das Ukraine Projekt bietet Kindern und Jugendlichen Ablenkung und Räume der Entspannung in Zeiten der Belastung. Spielerisch lernen sie unter anderem den Umgang mit digitalen Medien, gestalten eigene Bücher mit selbst geschriebenen Texten und Bildern und planen selbstständig Städtetripps, um das Ruhrgebiet und NRW zu erkunden und gemeinsam zu lernen.
Bei der Förderung von digitalen und kreativen Fähigkeiten liegt der Blick immer auf den individuellen Stärken der Kinder und Jugendlichen. Sie sollen befähigt werden, ihre Talente selbst zu erkennen und ihren eigenen Wert schätzen zu lernen, damit sie diese weiter ausbauen können. Ziel bei den wöchentlichen Treffen ist es, das ankommen in Deutschland und besonders hier in Witten zu erleichtern und ein offenes und wertschätzendes Umfeld zu schaffen, in dem die Kinder und Jugendlichen ihre Potenziale frei entfalten können.
"Jedes Talent ist anders und eben Besonders", so Kim bei der Verleihung an dem Abend. Und genau dieses Gefühl wollen wir den Kindern und Jugendlichen von Signal of Youth mit auf den Weg geben.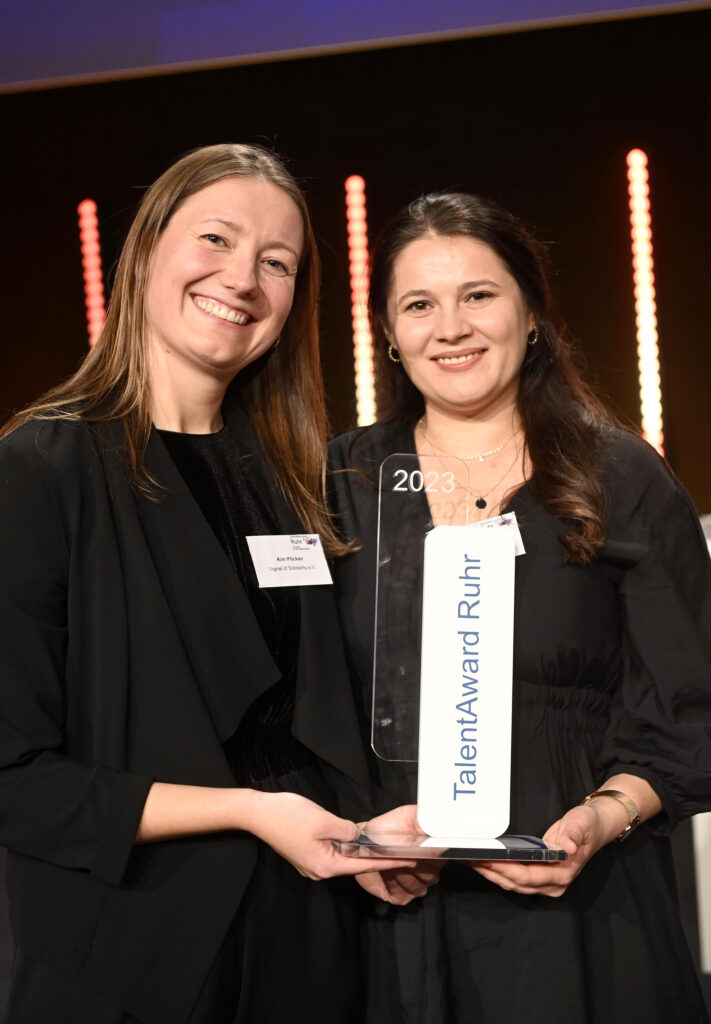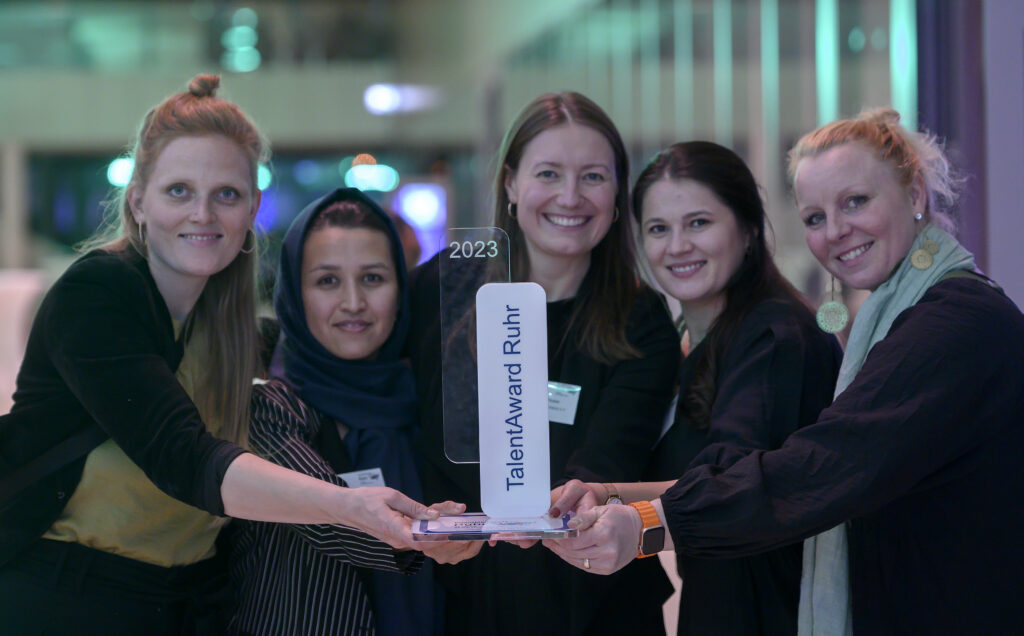 Mit dabei war auch der Rest des Teams von Signal of Youth, um den Preis entgegen zu nehmen. Gerade in Zeiten des Fachkräftemangels ist es von besonderem Wert, ein so beständiges und stetig wachsendes Team aufgebaut zu haben, das sich für die Belange von Kindern und Jugendlichen einsetzt.
Wir bedanken uns herzlich bei TalentMetropole Ruhr für die Auszeichnung unserer Arbeit und sind gespannt auf die Zukunft.